Posts for: February, 2021
By Best Dental Group
February 21, 2021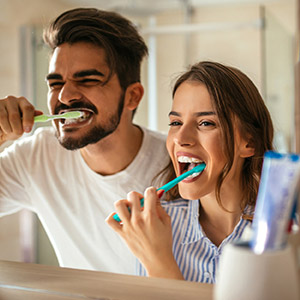 Tooth decay is a destructive disease that could rob you of your teeth. But it doesn't appear out of nowhere—a number of factors can make it more likely you'll get cavities.
But the good news is you can be proactive about many of these factors and greatly reduce your risk of tooth decay. Here are a few questions to ask yourself to point you in the right direction for preventing this destructive disease.
Do you brush and floss every day? A daily habit of brushing and flossing removes buildup of dental plaque, a bacterial film on teeth that's the top cause for tooth decay and periodontal (gum) disease. Hit or miss hygiene, though, can greatly increase your risk for developing a cavity.
Do you use fluoride? This naturally occurring chemical has been proven to strengthen tooth enamel against decay. Many locations add fluoride to drinking water—if your area doesn't or you want to boost your fluoride intake, use toothpastes, mouthrinses or other hygiene products containing fluoride.
Do you smoke? The nicotine in tobacco constricts blood vessels in the mouth so that they provide less nutrients and antibodies to the teeth and gums. Your mouth can't fight off infection as well as it could, increasing your risk of dental diseases like tooth decay.
Do you have dry mouth? This isn't the occasional bout of "cotton mouth," but a chronic condition in which the mouth doesn't produce enough saliva. Saliva neutralizes mouth acid, so less of it increases your risk for decay. Chronic dry mouth can be caused by medications or other underlying conditions.
Do you snack a lot between meals? Sugary snacks, sodas or energy drinks can increase oral bacteria and acidity that foster tooth decay. If you're snacking frequently between meals, your saliva's acid neutralizing efforts may be overwhelmed. Coordinate snacking with mealtimes to boost acid buffering.
You can address many of these questions simply by adopting a daily habit of brushing and flossing, regular dental cleanings and checkups, and eating a healthy, "tooth-friendly" diet. By reducing the risk factors for decay, you can avoid cavities and preserve your teeth.
If you would like more information on preventing tooth decay, please contact us or schedule an appointment for a consultation. You can also learn more about this topic by reading the Dear Doctor magazine article "Tooth Decay: How to Assess Your Risk."
By Best Dental Group
February 10, 2021

Dental implants are a reliable way to replace teeth. More than 95% of implants survive ten years after their installation, and many of these could conceivably continue for decades.
But that still leaves a tiny few that don't reach the ten-year mark. Some fail early because the implant didn't integrate fully with the bone to create a durable hold. But others fail later—usually for one of two major causes.
Some failures occur due to over-stressing of the implant from abnormally high biting forces, usually because of teeth grinding. People who have this involuntary habit generate excessive force as they grind their teeth, which can damage implants (as well as natural teeth). To reduce this force, a patient's dentist can fit them with a biteguard they wear in the mouth to prevent teeth from making solid contact with each other during a grinding episode.
Fortunately, teeth grinding isn't that prevalent among adults—but that can't be said about the other major cause for implant failure: periodontal (gum) disease. This is a bacterial infection caused by dental plaque, a thin, bacterial film that accumulates on teeth. The implant itself isn't affected by the infection, but the gums and underlying bone supporting the implant can be.
Implants are most in peril from a form of gum disease called Peri-implantitis, which spreads deeper into the gum tissues around implants faster than infections around natural teeth. That's because implants lack the gum attachment of real teeth, which supply a collagen barrier that slows the spread of infection. Peri-implantitis can quickly infect the supporting bone and eventually weaken its connection with the implant.
Because of its aggressiveness and speed, we must diagnose and treat peri-implantitis as soon as possible to limit any damage to the support structures around an implant. If you notice any swollen, reddened or bleeding gums, you should call your dentist as soon as possible for an examination.
And in light of this potential danger to your implants, you should also strive to prevent gum disease through daily oral hygiene. Brushing and flossing your teeth, including around your implants, removes harmful plaque buildup. This daily habit and regular dental cleanings will help you avoid a costly gum infection and ensure your implants are there for years to come.
If you would like more information on dental implants, please contact us or schedule an appointment for a consultation. You can also learn more about this topic by reading the Dear Doctor magazine article "Dental Implants: A Tooth-Replacement Method That Rarely Fails."